BIOL 4004: FRESHWATER ECOLOGY (taught every fall semester)
Interactions of physical, chemical, and biological properties of freshwater ecosystems. Lecture & Lab. Prerequisite: BIOL 2804 or equivalent. (3H,3L,4C) I,II.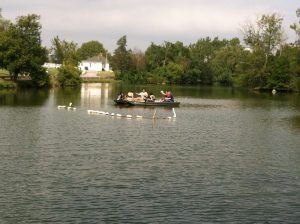 BIOL 6064: SCIENCE OF TEAM SCIENCE (taught spring semesters)
We face unprecedented complex environmental and social challenges that necessitate cross-disciplinary integration and collaboration. However, unless researchers are able to establish effective working relationships in teams that enable diverse participation, it is unlikely that they will be able to tackle these challenges. This course analyzes literature from many disciplines – including business management, organizational psychology, philosophy, and environmental science – to provide an overview of the emerging discipline of the Science of Team Science (SciTS), with a particular focus on SciTS applications for ecology. Students will gain practical skills about how best to work effectively with team members, develop their own leadership philosophy and collaborative plan, and assess team performance to produce high-impact research outcomes. We will also focus on leadership development to support diverse, equitable, and inclusive teams. The course will be centered on reading discussions, supplemented by case studies, reflections, and presentations.
BIOL 6064: FRESHWATERS IN THE ANTHROPOCENE (SPECIAL TOPICS IN FRESHWATER ECOLOGY, taught spring semesters)
Humans are modifying freshwater ecosystems across the globe. In this course, we will investigate the effects and interactions of altered climate, eutrophication, invasive species, and unsustainable withdrawal on the ecology and ecosystem services of lakes and streams. The course will be centered on reading discussions, supplemented by modeling exercises and lectures. The capstone of the course will be writing an independent research proposal exploring the fate of freshwaters in the Anthropocene.