Field season is in full swing and lots of updates!
Field season is in full swing and lots of updates!
There is lots of action, adventure, and excitement in the Carey Lab- classes are over, we are in the field most days every week, and we are learning a lot about the ecology and biogeochemistry of our study reservoirs.
Cayelan is back in Blacksburg after being on the road for much of April and May: she gave seminars at Miami University of Ohio, University of Quebec in Montreal, and INRA (the Institut National de la Recherche Agronomique) in Thonon-les-bains, France, and was an instructor at an EU CYANOCOST/Netlake training school in Evian.  As part of the training school, she worked with representatives from >35 countries to co-organize a massive cross-European lake survey of cyanobacteria this summer.  Follow updates from the European Multi-Lake Survey with the #EMLS hashtag on Twitter this summer as sampling starts going!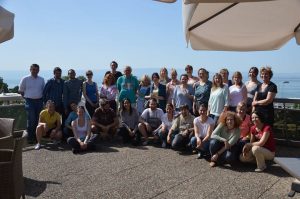 A photo of the EMLS participants in Evian, overlooking Lake Geneva.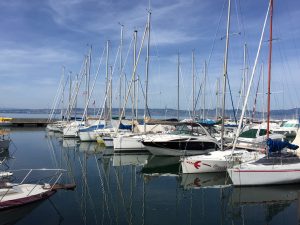 Pick a yacht, any yacht: sampling Lac Leman/Lake Geneva

Visiting the Institute of Forel at the University of Geneva, CH: the birthplace of limnology!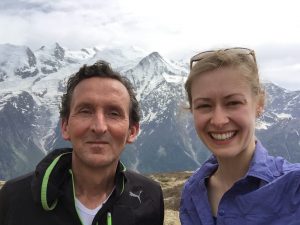 After the training school, Bas Ibelings, the lead of the EMLS, and Cayelan hiked up in Chamonix to see the glaciers: Mont Blanc (la Mer de Glace) is in the background.
Back in Blacksburg, Elle Humes, our Daphnia nanny undergraduate, finished her year-long experiments and presented her findings.  We will miss her enthusiasm and passion for the zooplankton this summer!

Elle with her Aquashade experimental zooplankton!
We have also received lots of good news: Jon recently received the Krieg Award for Teaching and Research Excellence from the VT Biology department and the Virginia Water Resources Research Center's Student Research Grant to support his study of zooplankton dynamics in managed reservoirs, and Cayelan received the 2014 Outstanding Research Award from the VT Biology department.
Finally, Cayelan's paper with Justin Brookes for the United Nations Chronicle has been published online.  See the article on the Publications page of the website and the press release here.